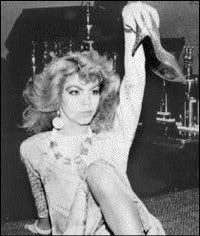 From the House of Xtravanganza, Ms. Venus Xtravaganza!
She is serving you fish . . . honey, and it ain't Trout!
One of the true standouts in
Paris is Burning
. . . if you're a young Queen out there and haven't seen Paris is Burning . . . it's like a Rite of Passage for a young gay person . . . listen, learn and serve, mamma!
The category is: DAYTIME FEMME REALNESS!
Honey, if you can walk from your place to the club without getting clocked or beaten up . . . that's DAYTIME REALNESS, honey!!