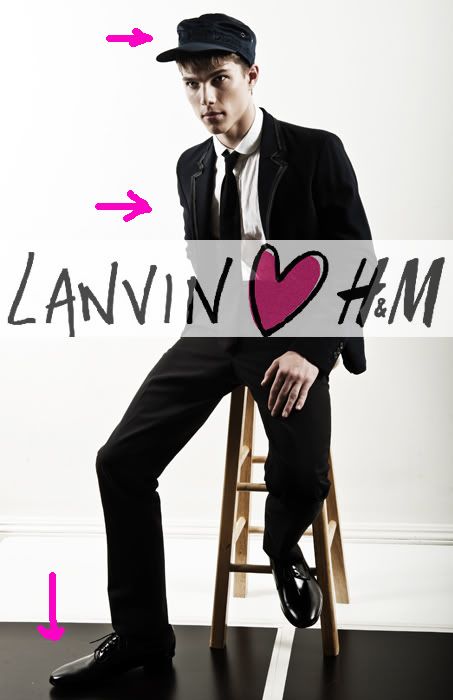 This morning at 3am . . . I went in line to buy the Lanvin for H&M collection. Let's just say, it was insane . . . well, not that it was unbelievable long, the line was . . . but that I am awake and in the Beverly Center in Hollywood at 3am. People were camped out in the rain for this collection . . . I mean, I've never waiting in a line for a H&M before but let's just say, the die hard fashionistas or dare I say it, the eBay resellers were out in full force!
It wasn't that bad waiting . . . although there were like 100 people ahead of it . . . it's not as intense as the other collaborations that H&M had in the past like Lagerfeld, Stella McCartney, Jimmy Choo . . . which as I've heard were a bit more chaotic! I guess, Lanvin is not as appealing or well known to the general public . . . cuz I was really expecting thousands of people in line already . . .
However, come 7:30am . . . there were more people coming and I started panicking!!!
Although we got wristbands to shop at the women's collection . . . the men's collection was an open market!! Let's just say, when the doors finally opened . . . it was like sharks on a captured prey . . . each one for itself and when it came down to it . . . decorum was out the door . . .
People were just grabbing anything that they can get a hold of and things flying off the racks and even the posters got destroyed from people trying to reach in to get the garments!!!
Needless to say, I got what I wanted . . . a blazer, hat and shoes! It was a good haul considering the mad house there! I mean, I could have gotten more but let's just say, the price points on some of the garments were a bit too high and literally, I just wanted the sunglasses and the hat!
Unfortunately, the sunglasses were at the women's collection and that was the first thing to be sold out!
Wow, I'm at a dazed right now . . . I don't know if I'm tired or just insane for being up so early in the morning to queue up for H&M! But, it is Lanvin!
I don't think I'll be waiting or waking at 2am just to be in line for another designer . . . well, let's just say it will take a great designer collaboration again for me to wake up for it!

PS: Dare I say it . . . although there was mad chaos inside H&M . . . it was quite e
xhilarating experience . . . it's almost like this feeling of accomplishment that you gone through . . . expecially getting the pieces that you wanted right in your hands!!
PSS: Yes, I only got 3 things and it totalled $300 bucks! ouch!